Skillnet Ireland recognised for Best Not for Profit Collaboration at IITD National Training Awards
Sep 30th, 2020
Skillnet Ireland has been awarded the Best Not for Profit Collaboration or Partnership at the 2020 Irish Institute of Training & Development (IITD) National Training Awards (livestreamed on Friday 25 September). Now in its twenty-second year, the IITD National Training Awards is recognised as the premier Learning & Development event for industry and promotes excellence, best practice and innovation in training and learning & development.
The award was given to Skillnet Ireland for its Clear Customs programme and recognises an innovative multi-stakeholder collaborative approach to building critical customs capacity within Irish businesses as part of the Getting Ireland Brexit Ready campaign.
Clear Customs offers free training, delivered via virtual live-classes and app-based learning, to customs intermediaries and to private sector businesses in Ireland who frequently trade with or through the UK. The programme is designed by Skillnet Ireland and delivered by CILT Skillnet, in close collaboration with the Department of an Taoiseach, Enterprise Ireland, the Chartered Institute of Logistics and Transport, the Irish Exporters Association, the Irish International Freight Association and Institute of Technology, Carlow.
Clear Customs has been hugely successful in boosting capacity amongst many Irish businesses that regularly trade with or through the UK and will help ensure that goods move smoothly on and off our island from 1st January 2021. Demand for the programme was unprecedented in 2019 and, working with our partners, we brought this innovative programme to 669 participants in 375 businesses. With a newly updated programme delivery via a mobile app and virtual classrooms, applications to the programme have been overwhelming since it relaunched in early-September 2020, surpassing 1,000 applicants so far.
Commenting on the award, Tracey Donnery, Executive Director of Skillnet Ireland said;
"We are delighted that the Skillnet Ireland Clear Customs programme, delivered by CILT Skillnet, was recognised by IITD National Training Awards today. Clear Customs was designed in collaboration with key industry bodies in the trade and logistics sector, ensuring the programme was both innovative and delivers concrete value to businesses. Clear Customs is now available through a new mobile app. All businesses that trade with or through Great Britain are urged to avail of this free programme and be prepared for customs changes from 1st January 2021."
Mick Curran, CEO of Chartered Institute of Logistics & Transport (CILT) said;
"I am delighted that the Clear Customs programme has received further validation in the form of the IITD award, this project was from the outset a collaboration between industry bodies, the state and academia.  As a program it came together in an exceptionally short time, due in no small part to the dedication and professionalism, of a small team.  This program was in 2019 Irelands best preparation for a so called no deal Brexit, it in 2020 continues to be the best course of action that any company trading with the UK can take prior to 01 Jan 2021"
For the customs intermediary sector, and other businesses, taking steps now to train key staff on how to effectively complete a customs declaration helps pre-empt Brexit related customs challenges. Click here to learn more about the Clear Customs training initiative.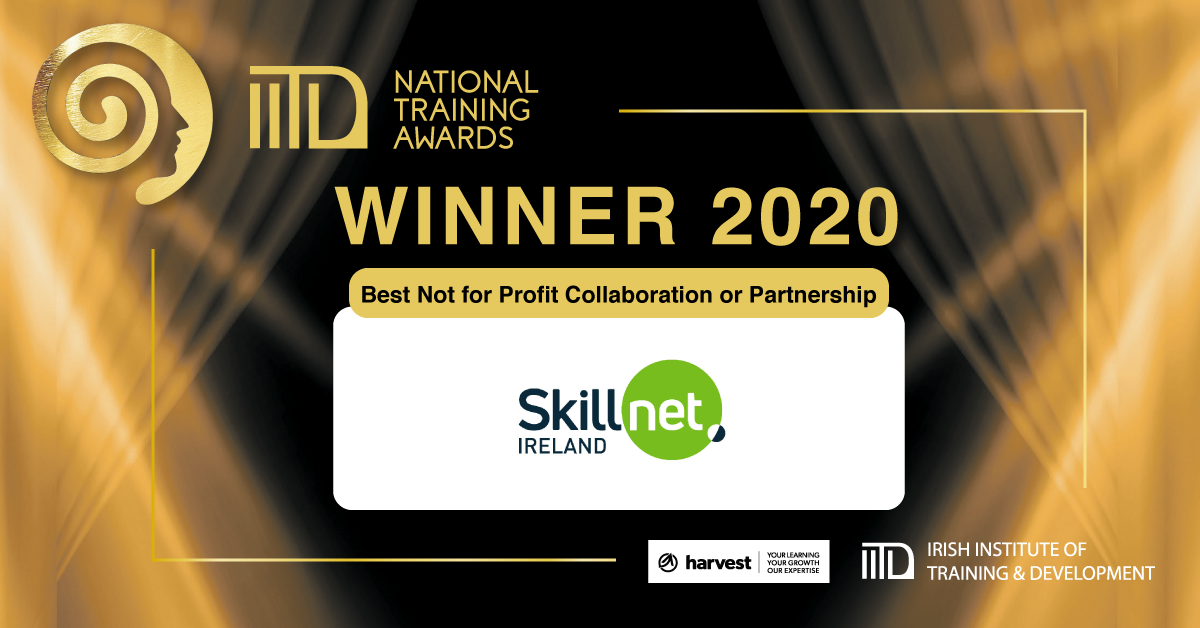 Enterprise-Led Workforce Development
Skillnet Ireland is a business support agency of the Government of Ireland and supports over 18,000 companies nationwide and providing a wide range of enterprise-led learning solutions to over 70,000 people via our 70 Skillnet Networks and other funded initiatives. Visit our networks page to find out how your company can benefit from being part of a Skillnet Network.
Stay connected with kinetic
Stay connected
with kinetic
Receive regular news and insights from the world
of talent development straight to your inbox.
Receive regular news and insights from the world of talent development straight to your inbox.
By clicking Subscribe, I agree to the use of my personal data in accordance with Skillnet Ireland Privacy Policy.