Skillnet Ireland Launches Six New Networks as Demand for Upskilling Grows
May 14th, 2019
Skillnet Ireland, the national agency responsible for the promotion and facilitation of workforce learning in Ireland has launched six new networks to address the growing skills needs in the film, television, retail, health and fitness sectors.
The six new networks; Screen Skillnet, SFA Skillnet, Fingal Dublin Chamber Skillnet (Dublin), Dundalk Chamber Skillnet (Louth), CSNA Skillnet and Leisure, Health & Fitness Skillnet were unveiled yesterday (May 13th 2019) at the Virgin Media Television studios in Ballymount, Dublin.
With a proven track record in developing innovative learning networks, Skillnet Ireland through its 65+ strong community currently supports over 16,000 companies, particularly SMEs, in sectors and regions across the country.
Skillnet Ireland works closely with these networks to address emerging skills needs, by designing bespoke programmes and qualifications across multiple sectors such as; manufacturing, agri-business, ICT, engineering, pharma, medtech, hospitality and construction related disciplines.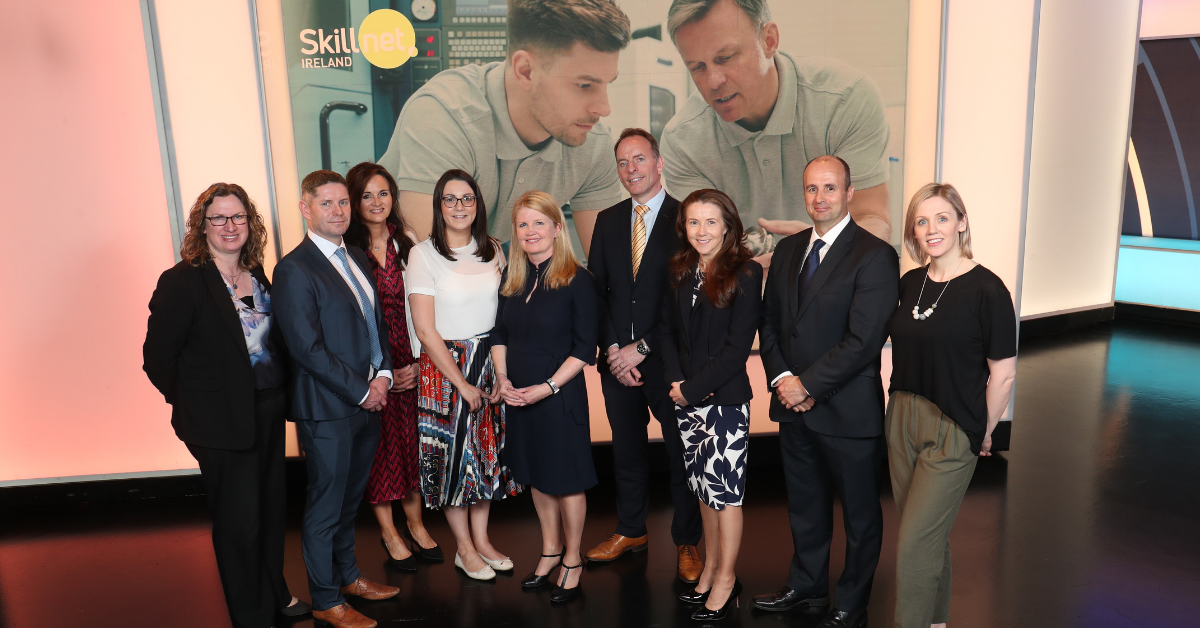 Pictured at the launch from L-R: Geraldine Lavin, SFA Skillnet Network Manager; Aidan Callan, Dundalk Chamber Skillnet Network Manager; Caoimhe O' Donnell, Skillnet Ireland; Victoria Bolger, CSNA Skillnet Network Manager; Noreen Fitzpatrick, Fingal Dublin Chamber Skillnet Network Manager; Paul Healy, Skillnet Ireland Chief Executive, Tracey Donnery, Skillnet Ireland; Karl Dunne, Leisure, Health & Fitness Skillnet and Barbara Deignan, Screen Skillnet.
Speaking at the launch Paul Healy, Chief Executive, Skillnet Ireland said;
"In order to remain competitive, businesses need to invest in their greatest asset, their employees. Promoting continuous learning and upskilling will not only improve productivity; all the evidence shows it actually increases employee engagement and staff retention.
"These new networks will drive greater levels of training and management development within a wide variety of sectors. By facilitating industry led collaboration with training and education providers Skillnet Ireland will address the specific skills gaps and shortages that employers face. This will ensure Ireland has the breadth of skills needed for businesses to grow, which is a key element of the Government's economic and employment strategy."
Screen Skillnet
 There are currently over 17,000 people working in the audio-visual sector in Ireland. Screen Skillnet Network Manager, Barbara Deignan said the group was set up to support the growth of Ireland's Film, TV and Post-Production sectors through the provision of bespoke training and professional networking events.
"Our subsidised training solutions are offered to companies of all sizes, including freelancers throughout Ireland. The bespoke courses provided are designed in direct response to the needs of the industry and delivered by industry specialists," said Ms Deignan.
The goal of Screen Skillnet in its pilot year, is to provide training to a minimum of 200 trainees across 60 companies. John Phelan of the Dublin Business Innovation Centre, which manages Screen Skillnet, said the growth of the industry has been phenomenal in recent years, with the success of SVOD's (Video On Demand) Netflix, Amazon, Apple etc.
"The demand for original content is huge. We've gone from the SVOD's (Video On Demand) market creating over €3 billion worth of content in 2012, to over €20 billion this year. Ireland has some of the best videographers, screen writers, producers and directors in the world. But they need to continuously upskill in order to ensure they remain competitive."
Speaking at the launch Director of Operations at Virgin Media Television, Áine Ní Chaoindealbhain said:
"As a member of the Screen Skillnet steering group and a key player in the sector in Ireland, Virgin Media Television welcomes this new initiative. Virgin Media Television has made significant investment in our broadcast infrastructure and people in recent years.  We are delighted to be at the forefront of training and development in the industry."
SFA Skillnet
SFA Skillnet works to improve the competitiveness and productivity of Irish SMEs through training across three core areas: management skills, the talent lifecycle and future skills. SFA Skillnet is promoted by the Small Firms Association. Membership of the network is open to all private enterprises, including sole traders, based in the Republic of Ireland.
The group aims to train over 350 business owners, managers and their teams this year. Director of SFA, Sven Spollen-Behrens, said the group noticed a skills gap and a demand from its members:
"Our focus is on helping small business owners to successfully recruit new people and to engage with their staff in a more meaningful way. Training and upskilling forms an important part of our campaign and the new SFA Skillnet will be instrumental in delivering a comprehensive training programme that is focused on the needs of small business owners and their team."
Fingal Dublin Chamber Skillnet
Fingal Dublin Chamber Skillnet is an enterprise-led training network for companies in the Fingal region who want to work collaboratively to respond locally to skill needs within their business. The network's objective is to support member companies to develop and grow, through the provision of relevant and flexible training. Membership of the network is open to private enterprises based in the Fingal region. The Network is promoted by Fingal Dublin Chamber of Commerce.
"There are over 8,000 companies based in the Fingal region, employing over 100,000 people. Our aim is to upskill over 290 people in our first year and provide many opportunities for businesses to network and engage," said Noreen Fitzpatrick, Network Manager of Fingal Dublin Chamber Skillnet.
"Training will be provided for a wide variety of sectors including hospitality, transport and logistics, tech, manufacturing, biopharma, agri-food, construction and retail. We've already conducted two training programmes in anticipation of Brexit – 'Exploring the Opportunities from Brexit' and 'Customs Clearance Procedures'," she added.
Leisure, Health & Fitness Skillnet
Leisure, Health & Fitness Skillnet is a learning network for all organisations in the leisure, health and fitness sector. This network will develop a strong talent pipeline and enhance the specialised knowledge and skills that currently exist within the industry. The Leisure, Health and Fitness Skillnet is promoted by Ireland Active, the Leisure, Health and Fitness Association.
"Over 350 people across Ireland will benefit from our training programmes which we hope to begin rolling out next month," said Karl Dunne, Leisure, Health and Fitness Skillnet Network Manager.
"A wide variety of training programmes will be provided, from fitness CPD's to managerial upskilling. We hope to have something to suit all members," he added.
Dundalk Chamber Skillnet
Dundalk Chamber Skillnet is a multi-sector learning network for companies of all sizes in Dundalk and the North East. Member companies work collaboratively to respond locally to skills needs within their businesses. The network supports regional development by helping local businesses to arrive at shared local solutions that are more accessible, more affordable and ultimately, more effective at meeting their needs. Membership of the network is open to private enterprises in the Greater Dundalk Area and North East Region.
Dundalk Chamber Skillnet Network Manager, Aidan Callan said it aims to support 70 businesses, upskilling over 400 employees from all sectors including, services, manufacturing, retail, accountancy and technology.
"We've only been in operation for six weeks and yet already we've supported many businesses in the North East. For example, we supported a rapidly expanding SME to streamline product codes, following a recent competitor acquisition. We supported a local accountancy firm with a graduate programme to develop young talent. We brought two large manufacturing companies together to collaborate on developing a Leadership Development Programme and we've supported 13 smaller SMEs in developing administrative and general business skills."
CSNA Skillnet
CSNA Skillnet aims to support the growth of Ireland's convenience stores and newspaper retailing sector by enhancing specialised skills and knowledge, broadening access to skills development opportunities and encouraging ongoing professional development for all staff within the sector. The Network is promoted by the Convenience Stores & Newsagents Association (CSNA).
"CSNA Skillnet will be open to over 1,000 retailers who are members of the Convenience Stores and Newsagents Association. Over 25,000 people are employed in the sector, many of whom will benefit from our upskilling and training programmes," said Victoria Bolger, CSNA Skillnet Network Manager.
"We held our first training programmes last month – 'Practical Employment Law for Business Owners'. It was sold out in all three locations, in Dublin, Limerick and Portlaoise. Preparation is already underway for more training programmes nationwide in areas such as HR and People Management, Finance, Marketing and Risk Management," she added.
Our approach
Skillnet Ireland networks operates under a joint investment model whereby learning networks can apply to receive up to 50 percent of the cost of training from Skillnet Ireland, and the remainder of costs are funded in matching contributions from participating businesses in the learning network. The approach has received international recognition as a model of best practice from the OECD, amongst others.
Funding applications for SMEs
Skillnet Ireland is also seeking applications from new groups of ambitious businesses aiming to address challenges through upskilling and reskilling. Applications for funding are open until September 30th 2019. To apply, visit www.skillnetireland.ie/funding
Skillnet Ireland is also holding information sessions next week for businesses, industry bodies or enterprise groups on how they can establish a Skillnet Network. The information sessions will take place in Athlone on May 22nd and in Dublin on May 23rd. The sessions are free, but you must register to attend. To register, click here.